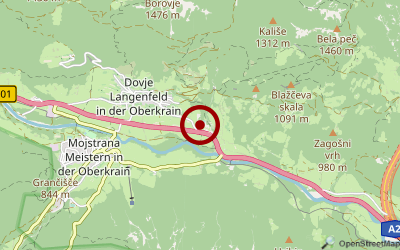 Geöffnet von-bis: 01.Januar bis 31.Dezember
Vergleichspreis: 22,30 Euro ( Preis pro Übernachtung für PKW, Wohnwagen und 2 Erwachsene und ein Kind in der Hauptsaison inkl. Nebenkosten )
Aufrufe (Letzte 30 Tage): 23
Beschreibung:
In an idyllic alpine resort of two villages Dovje and Mojstrana, ''where mountains shake hands'', is situated the pleasant and peaceful Kamne campsite. Small, family owned campsite can accomodate up to 200 guests every night and is open all year. Campsite also rents simple bungalows and comfortable apartments. Recreation facilities include two tennis courts, table tennis, street ball, picnic place and a small swimming pool. There is also a mobile home service point for campers in mobile homes.

Because the campsite lies in the immediate vicinity of Triglav National Park and its magnificent glacier valleys of Vrata, Kot and Krma, is the ideal starting point for numerous easy and more demanding outings into the Karavanke and Julian Alps and, most spectacularly, upon the slopes of famous Mount Triglav itself ? the symbol of the Slovenian nation and State. All the necessary information about mountain tours and useful maps are available at the campsite reception.

Umfeld:
TRIGLAV NATIONAL PARK Its name comes from the highest slovenian mountain, which rises in the heart of the park. Triglav National park lies in the north-western part of Slovenia and covers the area of Julian Alps. The largest and the highest alpine mountain group in Slovenia is a part of the largest european mountain range the Alps. Its name comes from the roman city Forum Iulii, which is today Cividale in Italy. One third of the Julian Alps is on italian teritory, bigger part in Slovenia covers Triglav national park. With 2864 meters is Triglav the highest slovenian mountain and the symbol of slovenian nation and independence. Its summit was conquered for the first time on 26. August 1778. The Alja? tower on top of the Triglav was built in 1895. There are over 40.000 climbers who visit the highest peak of Julian Alps every year. The deep valleys are very well indicated and appropriate for walking, cycling and enjoying of pure nature.
Anfahrt:
From Austria through the Karawanken tunnel, first exit Kranjska Gora and then 5 km direction Kranjska Gora. Camping lies on the right side by the main road. From Italy (over Pontebba and Tarvisio) tp Kranjska Gora and towards Ljubljana for 15 more km. Camping lies on the lesft side by the main road. Driving from Croatian coast over Ljubljana towards Villach using the motorway. Just before Karawanken tunnel exit for Kranjska Gora and drive for 5 more km. Camping lies on the right side by the main road.
Größe
Oberfläche: 1 ha brutto
Anzahl Plätze: 50

Sanitär:
Duschen (kalt)
Fäkaliengrube Wohnmobil
Waschmaschine
Sitztoiletten
Waschbecken (kalt)
Waschbecken (warm&kalt)
Duschen (warm)
Sport, Spiel und Fitness:
Tennis
Tischtennis
Fahrradverleih
Lage, Beschaffenheit , Umfeld:
sonnige Stellplätze
schattige Stellplätze
ruhige Lage
harter, steiniger Boden
Grasboden
Allgemein & Rezeption:
Hunde erlaubt (aufpreispflichtig)
Ausweispflicht mit Reisepaß
Öffentliches Telefon
Beleuchtete Wege
Internetzugang

Jetzt Informationsmaterial downloaden