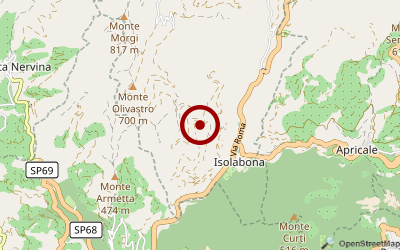 Geöffnet von-bis: 01.April bis 31.Oktober
Aufrufe (Letzte 30 Tage): 38
Beschreibung:
In the valley of Nervia, near the old medieval village of Isolabona, immersed in the green, the Camping delle Rose offers large places, swimming pools for adults and children, playgrounds, table tennis, toilettes with free warm showers, bar, restaurant with home cooking and the possibility to book mobilhomes and bungalows for rent to spend a pleasant holiday.

Umfeld:
The camping lies 5 Km from the medieval village of Dolceacqua, 12 Km from the sea, 32 Km from Monaco-Montecarlo, 6 Km from Pigna, where you will find the ancient thermal baths, famous for the sulphureous water. During the summer there is a rich programme of manifestations, festivals and cultural events.
Anfahrt:
How to get to "Camping delle Rose" - Motorway A10 - Genova/Ventimiglia : You have to get out to the tollboth in Bordighera. - Then You have to go towards the sea, at the first roundabout turn left and continue to go down. - After passing the pinewood of Bordighera Alta You will find a tree-lined road (Via Romana - Bordighera), when You arrive at the bottom of the tree-lined road: You will find a big round flowerbed. - Turn left (Via Pasteur) go straight on till the traffic-light - When You arrive at the traffic-light turn right - in the direction of France - and continue till the 4th traffic-light ( at the crossroads of of Nervia ) - When You arrive at the 4th traffic-light turn right (You are in the valley of Nervia), first You will find Camporosso and then Dolceacqua. After Dolceacqua You will find a crossroads - keep the right following the direction for Isolabona . - When You arrive in Isolabona pass the village and go straight on : You will find a brigde (don't go there !) opposite the chemist's. - You have to continue for about 2 Km where You will find a bridge with an oil mill, continue for about 300 m and You will find the camping on the right. Have a good travel !!!
Größe
Oberfläche: 5000 ha brutto
Anzahl Plätze: ?