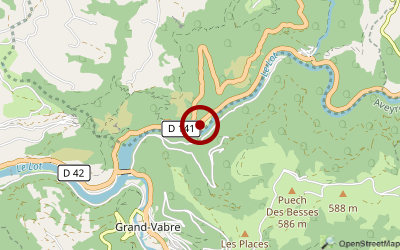 Geöffnet von-bis: 20.April bis 20.September
Vergleichspreis: 23,90 Euro ( Preis pro Übernachtung für PKW, Wohnwagen und 2 Erwachsene und ein Kind in der Hauptsaison inkl. Nebenkosten )
Aufrufe (Letzte 30 Tage): 11
Beschreibung:
A small campsite on the river Lot with direct acces to the river. The pitches are spacious and the sanitary block is well kept.
The baker passes every morning.
We don't have a bar or animation but we do have a lot of children in Juli and August.
There is a swimming pool but most people prefer to swim in the river.
From the campsite start several walking circuits.
Umfeld:
The site is situated at 200m in the Lot Valley. The wooded hills go up 800m This is "la vraie France profonde" yet untouched by mass tourism. In the area are numerous mediaval villages, some unknown other s with a grat reputation like Conques. There are lots of possibilitis for outdoor activities like walking, cycling ,mountainbiken and canoeing
Anfahrt:
The campsite is situad in at the border between the Cantal and the Aveyron. 45km south of Aurillac and 45km north of Rodez.
Größe
Oberfläche: 2 ha brutto
Anzahl Plätze: 46

Sanitär:
Sitztoiletten
Waschmaschine
Geschirrspülbecken (warm)
Duschen (warm)
Waschbecken (warm&kalt)
Sport, Spiel und Fitness:
Fußball
Tischtennis
Volleyball
Lage, Beschaffenheit , Umfeld:
parzellierte Stellplätze
sonnige Stellplätze
Grasboden
ruhige Lage
schattige Stellplätze
Allgemein & Rezeption:
Öffentliches Telefon
WLAN-Internet
Campingplatz bewacht
Campingausweis ausreichend
Hunde erlaubt (aufpreispflichtig)
Münztelefon