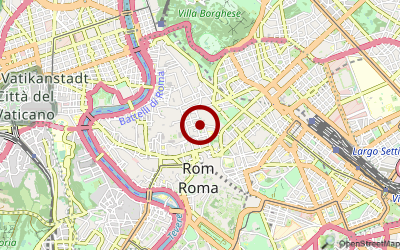 Geöffnet von-bis: 01.Januar bis 01.September
Aufrufe (Letzte 30 Tage): 21
Beschreibung:
The farm, with its farmhouse accomodation ,"Il Castoro" is a biological Roman Campagna farm in which wheat, oleaginous crops and herbacious crops are grown. In addition wild Charolais cattle are raised and there are over 60 bee-hives (you can find their products for sale on the farm), as well as ostriches, Australian emù and of course other farm animals.
Apart from visiting the tourist sights mentioned below you can go cycling or walking , bird-watch or simply spend a pleasant day on the shore of the lake eihter sun-bathing, fishing, doing some sport or tasting some of our local snacks.


Background Information
The Romans were well aware of the existence of Lake Martignano which formed 130.000 years ago. In fact, they used to frequent the lake as a holiday resort and draw off water from the Alseatina acqueducts built in the second century b.C. by Augustus in order to supply " La Naumachia " in Piazza Navona dedicated to Giulio Caesar.
The lake is one of the cleanest in Italy and you can find various types of fish in it including pike, perch, carp tench,and others.
On the shores of the lake you can also find many birds.

Umfeld:
our tents area is near the lake (30 mt) and is provided with water, bathrooms and energy; near the camp there is a bar, that is only opened until 8 p.m (depends from the period) and in the weekends, from the 15th of June it will be opened every day. Dog are not ammitted. Near the camp there is a beach, free for the guests of the camping, with, sun-chairs.
Anfahrt:
relax,lake,rome,sleeping,hammock,fishing,tourism,golf,tennis,horses,riding,air baloon,fly,ultralight air plane, trekking,bird watching, swimming,surf,windsurf,mountain bike,car,tents area ,camping,house,farm house accomodation,sex,lesbian,gay,gang bang,swinger,voujeur,cucklod,rss,archeo,history,museum,colosseum,water,massage,eggs,apartment,bungalow,chick,animal,honey,marmellade,train,pubblic bus,car,swhowers,hot water,termal bath,an,boy,nudism,beach,relaxing,room,house,country,village,mountain,higway,
Größe
Oberfläche: 2500 ha brutto
Anzahl Plätze: 10